We are Year 6!
Welcome to our class page! Here you will find lots of information about your final year at St Luke's.
We have two classes in our cohort: 6G and 6H.
6G - Mr Graham and Mr Addison
6H - Miss Halliwell and Mrs Salim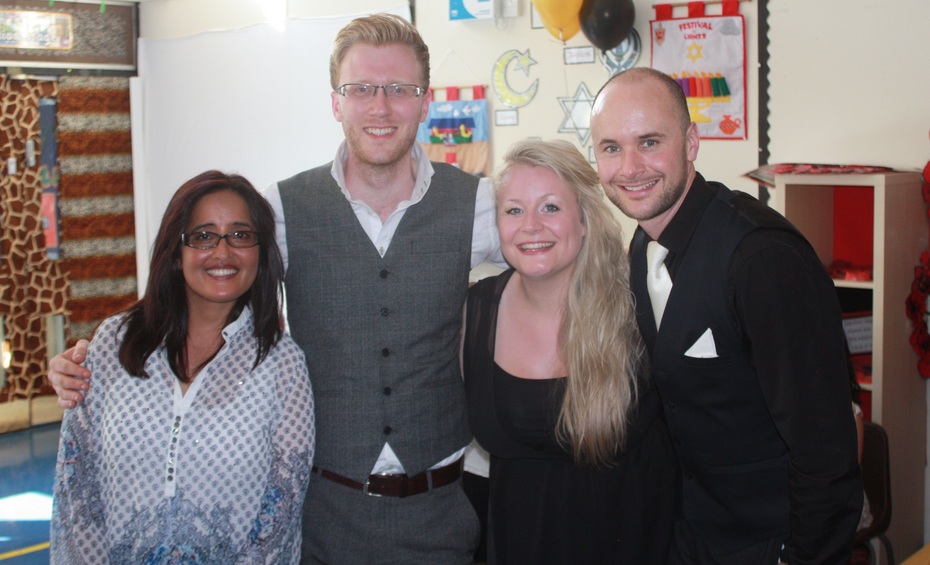 Here we are! Left to right: Mrs Salim, Mr Graham, Miss Halliwell and Mr Addison
School Reopening - Guidance for Parents.

Dear Parents/Carers,
School will begin a phased reopening from Tuesday June 9th 2020.
The safety and well-being of our pupils and staff is our priority and therefore the following actions must be adhered to:
1) Year groups.
Reception, Year 1 and Year 6 will be invited in. ONLY these year groups will come to school. Please note: Parents will not be penalised for not sending their children to school.
2) Dates children will be in school.
* Year 6 - 9th June – 7th July 2020
* Year 1 - 10th June – 14th July 2020
* Reception - 11th June – 14th July 2020
* School week will be Monday – Thursday. Friday will be our deep cleaning day.
* 15th July – 2nd September 2020 will be the summer holidays, if anything changes we will let you know.

3) Timings.
The school day will be adjusted as follows:
Reception – arrive at 10:00 a.m. prompt, leave at 1:30 pm
Year 1 – arrive at 9:30 a.m. leave at 2:00 pm
Year 6 – arrive at 9:00 a.m. leave at 2:30 pm
It is vital that you drop off and pick up punctually as it will not be possible to take your child to their class hubs if you are late.

4) Class groups.
All children will be divided into small groups of no more than 12 per group. Each group will be referred to as a hub e.g. RH1 (Reception Hub 1). Each hub will have members of staff. Staff and pupils will remain in their hubs and will not be able to mix with other hubs.
5) School meals.
School will not be able to provide hot lunches as meals must be carried and eaten in the hubs therefore only sandwiches will be provided during this period.
6) Drop off/pick up.
Each class hub will have an identified place for drop off and pick up. These will be along the school fence in the KS1 and KS2 playground facing Dean Trust.
• Drop off - Parents will drop off children at the gate where a waiting member of staff will direct them to new collection points. Once all children have arrived; they will be escorted to their class hubs by 1 member of the hub staff.
• Pick up – Children will be lined up outside in their pick up points (which are the same as the drop off points) at the year group collection time.

7) Parents.
a) Parents must wait outside the main entrance gates keeping 2 metres distance from each other.
b) Only 1 person may come to drop or pick up a child.
c) Visiting the school office – To visit the school office for any queries, parents must phone in advance to arrange this.
We expect all parents/carers to show the utmost respect for the school staff and each other. We expect all parents/carers to be patient and understanding at all times. We will not tolerate any antagonistic behaviour and persons displaying this will be asked to leave as such conduct will impact on health and safeguarding of school staff, pupils, other parents and carers.

8) Teaching organisation.
a) Resources – all children will have a named plastic bag for their own resources which cannot be shared with others. All soft furnishings, toys, playdoh, sand, water etc. will be removed and not available. We will have a structured handwashing routine/antibacterial gel available.
b) Curriculum – we will not be operating the normal curriculum for each year group.
c) The teacher/staff of the hub your child will be in will be contacting you to introduce themselves and provide additional information.
A streamlined curriculum will be in place focusing on:
Reception
• Communication and language.
• Personal, social and emotional.
• Phonics.
• Understanding of the world.
• Basic Maths and number work.
• Writing skills.
Year 1
• Phonics.
• Reading skills.
• Speaking and listening.
• PHSCE and wellbeing activities.
• Basic Maths and number work.
• Writing skills.
Year 6
• Transition work – getting ready for high school.
• PHSE and wellbeing activities.
• Reading comprehension.
• Maths – basic skills and using and applying in word problems.

d) Please see attached appendices to our behaviour policy. This outlines behaviours and conducts expected of pupils during the COVID-19 pandemic.
e) Home school will not continue once school has reopened. Parents will be directed to online sites as all members of staff will be teaching in school due to the need for staffing small number in the 2 metre distance. However, due to a commitment to own children, St Luke's will provide parts which can be collected from school. This is a changing process dependent on government reaction to the COVID-19 pandemic and plans may change very rapidly with very little notice.

Children not attending school
a) If in Reception, Year 1, Year 6 – will be directed to BBC online learning but no additional teaching packs will be provided. Parents can phone for advice and guidance.
b) Year groups 2, 3, 4, & 5 teaching packs will continue to be provided but children will be directed to BBC Bitesize for online learning.
Free School Meal Vouchers
For children who are eligible and do not come to school including children in Reception, Year 1 and Year 6 will still receive the vouchers.
- However, if children are in school they will not receive vouchers as they will be provided with a school meal.
Useful Home-learning Links
*Please note the below website addresses are frequently shared resources that may require parental supervision. We would always advise adults to supervise their children 'online'.*
Login code: UKTWINKLHELPS
Daily PE sessions that can be done at home can be found on
Joe Wicks 'Body Coach' YouTube channel at 9:00-9:30 to keep you active and moving.
Also Joe is doing daily workouts that are just 5 minutes long if you'd prefer a shorter session.
Keeping up with the daily news in a child-friendly way.
Unlock your child's maths confidence with Carol Vorderman's maths site for 4-11 year olds. Kids can watch her maths videos, play games and practise.
Home - The World of David Walliams
Elevenses with The
World of David Walliams
Every day at 11am, you can listen one of
David Walliams
'
World's
Worst Children stories, so sit down, take a break, and enjoy 20ish minutes of pure fun!
Finally, as and when you have completed parts of the projects, feel free to upload pictures of your work and we will have a read and leave comments for you- we look forward to seeing it!
Remember, we continue to be proud of you and look forward to hearing from you through the emails you have been sending. Don't forget to reply to the same email thread so we can keep your individual emails together.
As well as the continued use of the SATS booster books, extra Numeracy and Literacy learning material will be emailed out to all pupils every Monday of each new week throughout the Covid 19 closure. These additional resources will be divided into five daily tasks for pupils to work through each day. Any questions, please email and one of the four teachers who will reply to you as soon as possible.
biteback2030.com/real-story/making-your-ps15-free-school-meal-voucher-go-further-home
Copy and paste the above link into your internet browser to find useful information regarding how to claim a £15 shopping voucher. This voucher is for parents/carers of children who receive free school meals. It also contains ideas about healthy eating.
V.E Day Celebrations
From the 8th - 10th of May, celebrations will be taking place across the country to mark 75 years since the ending of the 2nd World war. In addition to the resource booklets that have been emailed out, we encourage you to visit the following websites which provide fantastic activities and information about this shared moment of celebration.
www.images.manchester.gov.uk - making use of historic images available on-line from archives+ at Manchester Central Library helps tell the story of V.E day.
www.iwm.org.uk - Listen to sound recordings of people's first hand experiences of the war.
www.bbc.co.uk - V.E Day BBC Teach, providing key information about the day, Prime Minister Winston Churchill and the Royal family.
Ideas for Home
Could you make your own fighter plane out of household items? (ask permission first)
Could you make your own Union Jack bunting?
Research and draw your own flag of a country that was involved in the WW11 and display it in your window.
Have a 'street party'in your home - encourage your family members to create their own indoor party at home: putting up flags, bunting, having an indoor picnic.

Design your own V.E day celebration poster.
Whatever big or small you can do - even if it's simply to take a moment to stop, think and reflect about this 75 year anniversary and consider the sacrifice and bravery of all involved in World War 2 and the victory that was achieved 75 years ago.
Spring Term in Year 6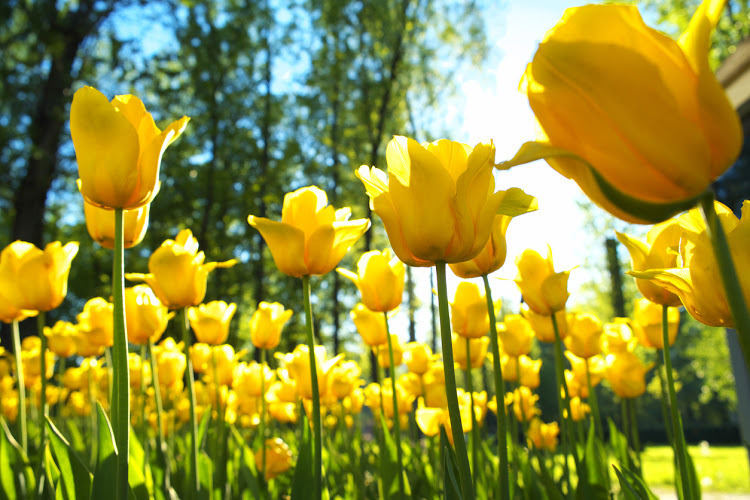 World Book Day 2020:
Huge thanks to all who dressed up and brought a book in for World Book Day! We had a great time hearing you share you stories with us and were so proud of how fluent and expressive you're all becoming!
Special thanks to Ebraheem for reading an extract from 'The Pirates of the Caribbean' to us both in Arabic and then in English! It was wonderful to hear a story read to us in another language too!
Key Dates:
Please see below for some key dates that you may wish to make note of: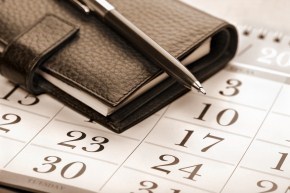 January 2020
Boosting - Every Monday and Wednesday until 4:20pm, starting Monday 20th ending Weds 6th May
Debate Mate - Every Wednesday in school hours
February 2020
Urban Debate League (Debate Mate inter-school competition) Round 1 - Tues 11th Feb for chosen representatives
1-week half term holiday
March 2020
To be updated
April 2020
2-week Easter holiday
Chester Zoo Sustainable Palm Oil project begins (within school time)
Curriculum Plans:
Click on the links below to see the yearly overview of our new enquiry-based curriculum and the key questions that we will be working to answer in our lessons each term. Each half term we try to identify common themes that run through the various subjects that we teach and these inform the 'key concept words' that we learn each term, which help us to see that our learning is all inter-connected!
Yearly Overview
Writing:_______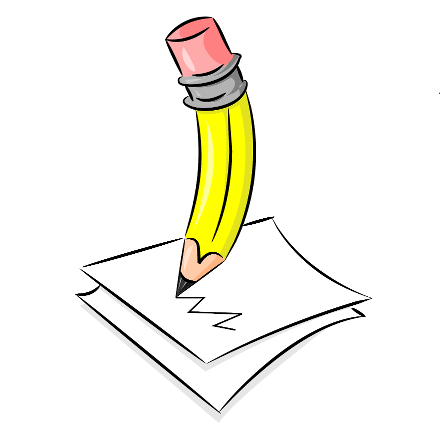 Our writing is in full swing and our assessed pieces are underway! We will continue to focus on detail refinement, accurate punctuation and imaginative use of language to create engaging and enjoyable texts of our own. This half term, our class text is 'Wonder' - a fantastic boy by R.J. Palacio about a boy called August who has a great deal to overcome as a ten-year-old in his first year of school. We will be using this text to help us write diary entries and short narratives and will focus especially on how we can use dialogue (conversation between characters) to show the reader what their personalities are like and to advance the action of the story further. The video below shows the trailer for the film, a wonderful adaptation by director Stephen Chbosky starring Jacob Tremblay as August.
For a complete overview our units for the year, please see the Curriculum Plan above.
Numeracy: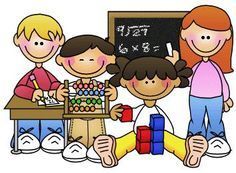 This half term we are hitting fractions hard! We will be learning how to compare and order fractions with different denominators, how to add and subtract them from each other and how to multiply and divide with them. You'll find that this actually comes up regularly in everyday life - for example if you are buying a sofa for £450, and one shop has 1/5 off the price and another 2/7, how can we know which is the better deal?
The most important skill you have to master as you work with fractions is equivalences. The fraction wall below will help you to visualize this: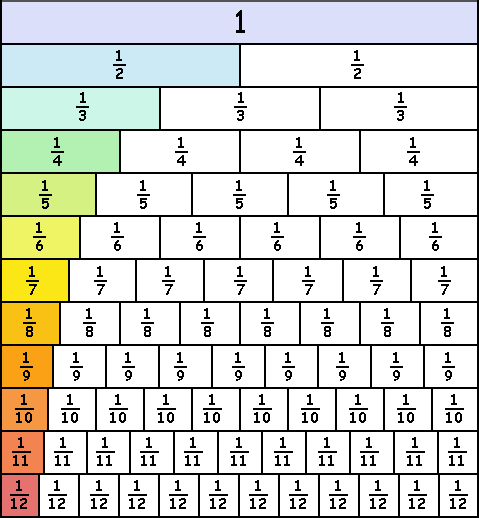 As you look at the fraction wall above, you'll notice that two lots of 1/6 (so 2/6) is the same size as 1/3. This means that these fractions are equivalent (the same amount). Another easy way to consider this is to multiply or divide both the numerator and the denominator by the same number. This will give you an equivalent fraction.
e.g.
3/4 is equivalent to 9/12 (because 3x3=9 and 4x3=12).
P.E.
For both 6G and 6H, you will need your PE kit in school every Tuesday for outdoor games.
Tuesday = Outdoor games (as it's now very cold outside, you must ensure you kit is appropriate for the cooler and wetter weather. A tracksuit is highly recommended and you must bring trainers to change into.)
You must bring the correct PE kit into school and we advise all kit is taken home and washed over the weekend so it is ready each time for a new week in school.
For the whole of this coming academic year we are pleased to announce that our Outdoor Games session will be delivered by Mr Buckley who works for the Manchester United Foundation. The majority of sessions will take place at Dean Trust High school and will be delivered on their fabulous 3G artificial pitch. Through the use of a wide range of ball activities, our pupils learn important physical skills such as balance, agility and awareness. Fitness aspects are also incorporated into the sessions and our pupils learn how exercise positively affects our bodies and health. Please read below the relating MUFC foundation participation statement.
"Our school is partnering with the Manchester United Foundation. The Manchester United Foundation is a charitable organisation that works with us to deliver motivational and inspiring projects to our pupils, with the goal of helping them reach their full potential. You can find out more about the Manchester United Foundation and its work at www.mufoundation.org. To ensure that the safety and welfare of our pupils is properly safeguarded and that the projects are delivered in an efficient manner, we provide Manchester United Foundation with basic information about each pupil taking part. This includes the pupil's name, date of birth, gender and basic details of any disabilities or medical conditions which may affect their ability to take part in the projects or necessitate special adjustments being made. We may also provide emergency contact details if required. Any information we supply to the Manchester United Foundation is securely held and used only for the purposes of delivering the projects and evaluating their success. All information is processed and safeguarded strictly in accordance with applicable data protection laws. If you require any further information about Manchester United Foundation or require a copy of their privacy policy, please contact 'privacy@mufoundation.org'.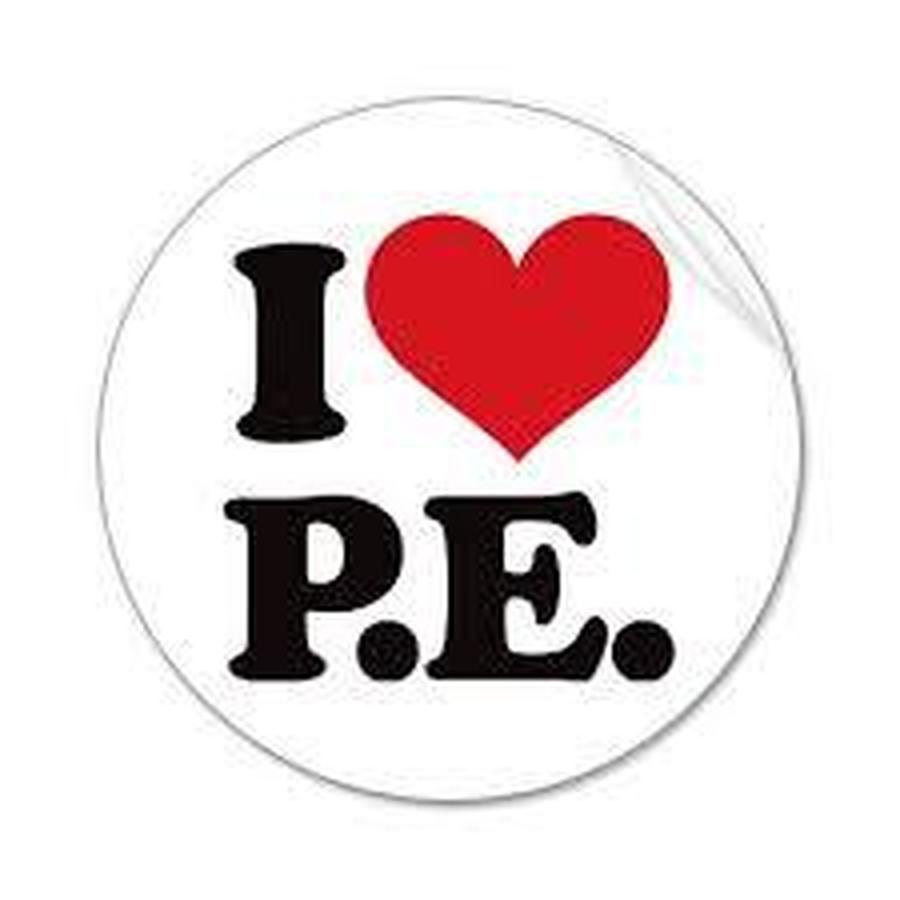 Homework:
Homework will be passed out by your teachers every Friday. It must be handed in by the following Tuesday. If you struggle with your homework, you can bring it in on Monday and we will gladly go through it with you to give you some pointers. Receiving homework will be a regular event at high school and it is our job to prepare you for what is to come; we will therefore make weekly checks if work has been handed in and completed to a high standard.