We hope you had a great Summer break!
Our team:
1M: Mrs Noor (class teacher) Miss Mahmood (teaching assistant)
1W: Miss Kelso (class teacher) Mrs Pritchard (teaching assistant)
This term we will be learning about lots of exciting new things with our theme 'Under the Sea'.
Literacy
We will be looking at stories with labels, lists and captions, such as Not a Stick, Commotion in the Ocean, and Billy's Bucket. We will also be looking at stories with a familiar setting such as The Tiger who came to Tea and Peace at Last.
We will also visit the aquarium in the Trafford Centre to see these animals up close!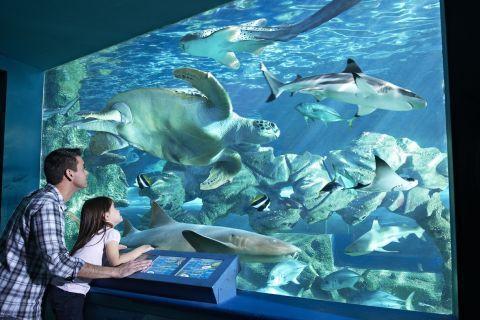 We will learn about many creatures including:
Sharks
Numeracy
In numeracy we will be looking at addition and subtraction. We will be using different resources such as, counting beads, cubes, numicon and number lines to support their working out methods. We will be using these methods with numbers to 20. We will be looking at word problems as well as missing number problems. We will also be looking at place value with numbers up to 50.
Science
In science we will be looking at animals and humans, categorising animals in different groups, labelling parts of the human body and looking at the 5 senses. We will also be looking at the seasonal changes between autumn and winter. We will be observing and investigating the weather and looking at what happens to the trees and leaves during these changes.
Geography and History
In geography we will be focusing on the question 'Why do we love to be beside the seaside?' and in history we will be focusing on the question 'What does it take to be a great explorer?'.
Project
Every term we will give the children a 'project scrapbook' and a subject for them to research and study at home. Parents and children can work together over a few weeks and hand in the finished projects on January 7th 2019. The best projects will win prizes! The aim is to encourage children to be creative and self- motivated as well as giving them further opportunities to practise their key skills, such as reading, writing and maths, at home. The project given this term focuses on where the children live, the kind of house they live in, their family, what kind of places are around them and what they enjoy doing.
PE
1N PE Day = Tuesday
1W PE Day = Thursday
White T shirt
Black shorts or leggings (above the knee for gymnastics)
Pumps or trainers
(Long hair must be tied back, no jewellery must be worn at any time and head scarves must be securely fastened or removed for PE)
We take part in dance, gymnastics and outdoor games every week (depending on the weather of course!) and children need to have appropriate kit for all PE lessons. It is easier if PE kits are kept in school on the children's pegs and only taken home at half term holidays for a wash.
Watch the Olympics gymnasts. Which piece of equipment did you like the most? How do the gymnasts help themselves balance?
We have been throwing and catching. Click on the image below to watch some videos of great throwers and catchers.
As part of our under the sea theme we have been looking at beaches in our Geography lessons and under the sea fiction books in Literacy. We went to Formby Beach on October 5th and then to Manchester Sea Life Centre on October 15th to help with our learning of the beach and sea creatures.